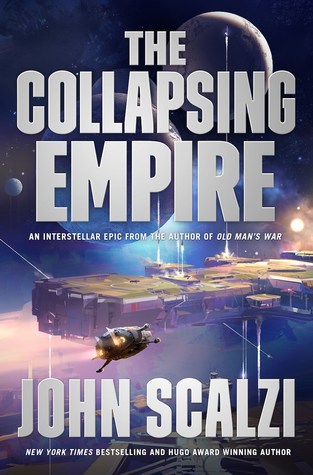 The first novel of a new space-opera sequence set in an all-new universe by the Hugo Award-winning, New York Times-bestselling author of Redshirts and Old Man's War.

Our universe is ruled by physics and faster than light travel is not possible -- until the discovery of The Flow, an extra-dimensional field we can access at certain points in space-time that transport us to other worlds, around other stars.

Humanity flows away from Earth, into space, and in time forgets our home world and creates a new empire, the Interdependency, whose ethos requires that no one human outpost can survive without the others. It's a hedge against interstellar war -- and a system of control for the rulers of the empire.

The Flow is eternal -- but it is not static. Just as a river changes course, The Flow changes as well, cutting off worlds from the rest of humanity. When it's discovered that The Flow is moving, possibly cutting off all human worlds from faster than light travel forever, three individuals -- a scientist, a starship captain and the Empress of the Interdependency -- are in a race against time to discover what, if anything, can be salvaged from an interstellar empire on the brink of collapse.


Star Rating:
5 stars
I received this book through NetGalley in exchange for an honest review.
John Scalzi is one of my favourite authors. I have read a number of his books now and they have never failed to entertain me. I was excited to learn of a new series and this is a great start to the Collapsing Empire series.
Scalzi created some very interesting characters with depth to them and made me like/dislike them and feel invested in what happened to them. I am very much looking forward to finding out how they develop in the series. What I liked most, being female myself, was that many of the main characters are female and they are strong females, in positions of power. It makes a nice change.
Whilst there was some action and suspense throughout the story, it wasn't really explosive or have me on the edge of my seat. But I figure that's because of the world building, setting up the characters and the scene ready for the rest of the series. The world building was fantastic. I loved the idea of the Flow and how spaceships moved around space between planets.
I eagerly await the next installment.