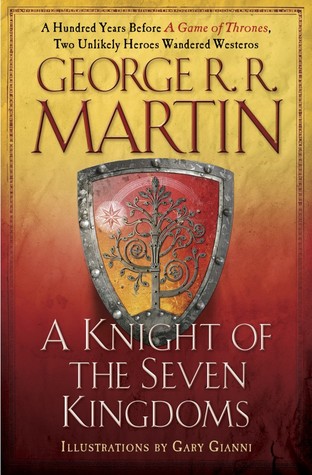 Taking place nearly a century before the events of A Game of Thrones, A Knight of the Seven Kingdoms compiles the first three official prequel novellas to George R. R. Martin's ongoing masterwork, A Song of Ice and Fire. These never-before-collected adventures recount an age when the Targaryen line still holds the Iron Throne, and the memory of the last dragon has not yet passed from living consciousness.

Illustrated by the amazing Gary Gianni who is known for his work on PRINCE VALIANT, the Wandering Star limited editions of SOLOMON KANE and BRAN MAK MORN, and of course for his stunning 2014 ICE & FIRE calendar.
Star Rating:
5 stars
I had to read this book. I've read all the books in the A Song of Ice and Fire series and I am impatiently waiting for the next installment. I thought this book would tide me over but I read it way too quickly (because it's really good) and now I'm back to square one desperately wanting to read more about Westeros. So more waiting commences. It's a bit of a tease this book ;-)
This book combines three short stories about the Hedge Knight Dunk and his Squire, Egg. The events of their lives take place a century before that of the characters I know and love from the main series books. Same world, different characters. But the world is as vibrant and familiar as I remember it to be. The family houses and the infighting between those families is still there. I guess it will always be there while money and the Iron Throne are about. Each story is separate and tells the tale of Dunk and Egg's adventures around Westeros. Even with just three short stories, you see the characters grow and their relationship blossom. At the end of the book, George R R Martin hints that there will be more tales of Dunk and Egg in the future which I'm pleased about as they are fantastic characters. I borrowed the ebook from the library and it was an illustrated version. I thought the illustrations were fantastic and really added to the story. A must read for any Game of Thrones fans!