First Paragraph - First Chapter - Tuesday Intro is hosted by
Bibliophile By the Sea
. So for this book meme, I just have to post the first paragraph of the first chapter of either a book I am currently reading or about to start.
I'm going to be focusing on a book which I have already started reading -
Prince of Thorns
by Mark Lawrence. This book has been on my wishlist for ages and seems to divide people - it's another one of those love it - hate it books. I am reading it with a group of other fantasy enthusiasts!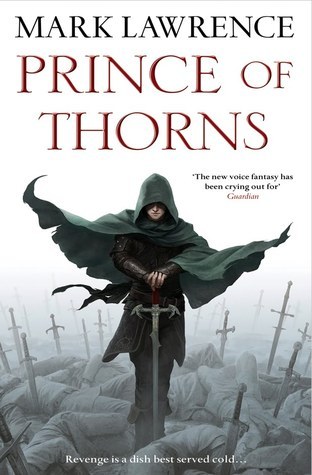 "Ravens! Always the ravens. They settled on the gables of the church even before the injured became the dead. Even before Rike had finished taking fingers from hands, and rings from fingers. I leaned back against the gallows-post and nodded to the birds, a dozen of them in a black line, wise-eyed and watching."
Teaser Tuesdays is hosted by Miz B of
Should Be Reading
. So for this book meme, I have to randomly turn to a page (or two) and choose a sentence to post here to tease you all with. I'm combining the two book memes and using the same book for both.
My teasers:
"War is a thing of beauty, as I've said before, and those who say otherwise are losing". ~pg 35
"I woke up with that sudden convulsion you get when every muscle you own suddenly realises it's dropped off on duty". ~pg 118
Prince of Thorns:
View on Amazon
||
View on Goodreads
What do you think? Would you keep reading?