Should Be Reading
.
The aim of WWW Wednesday is to answer the following three questions…
• What are you currently reading?
• What did you recently finish reading?
• What do you think you'll read next?
What are you currently reading?
Memoirs of a Geisha
by Andrew Golden. It has been on my physical bookshelf for years but I have kept putting it off for some reason. Then this month, in a group I'm in on Goodreads, we were paired up with someone who would choose a book for us to read from our To Be Read shelf. And this book was chosen for me! I am so pleased with the choice too. I can't believe I have waited so long to read it. It is beautifully written, very interesting and the characters are well developed.
Shades of Grey
by Jasper Fforde for a group read and I am thoroughly enjoying it. Very humorous, extremely well written and the world is expertly crafted. This is my first book by Fforde and it won't be the last! Check out
the book's intro
.
Harry Potter and the Chamber of Secrets
by J.K Rowling. it is my first read through of this series. I've seen most of the films except this one it would seem. I knew there was one that got away! I hope Stephen Fry narrates the whole series as he has the perfect voice for it. I'm enjoying it so far.
What did you recently finish reading?
Shift
by Hugh Howey which is the second book in his dystopian silo series. Because this one was a prequel, there was a new cast of characters - towards the end there was some overlap as the story brought us up to present day with the first book. It was a great book and set things up nicely for the series finale, Dust. I will post the review imminently.
Spell Bound
by Kelley Armstrong which is the 12th book in her Women of the Otherworld series. Just one more book to go now although there are a couple books of short stories too which I might check out afterwards. Sometimes when I finish a series it's almost like I mourn it because I've enjoyed it so much, while others I can't wait to finish even though I've had fun reading all the books. With this series, I am feeling the latter - not because the series is bad - far from it. I have loved every moment of it but I'd like to finish it and move on to another series now.
What do you think you'll read next?
A difficult question! I'm undecided. I have read all the books I "need" to read this month, except
Prince of Thorns
but I am reading that for a buddy read towards the end of the month. So in the meantime, I can just read some books "just because". I'd like to work through the unread books on my actual book shelf so that once read, I can put them in the box to be "carbooted" to clear some space. So that narrows it down somewhat. So I'm thinking either
Made to be Broken
by Kelley Armstrong,
Interview with a Vampire
by Anne Rice,
The Gargoyle
by Andrew Davidson or
Drawing of the Three
by Stephen King. I had wanted to save all my spooky books for October so that I can read nothing but spooky but I think I'll still be able to do that even if I go with one now as well.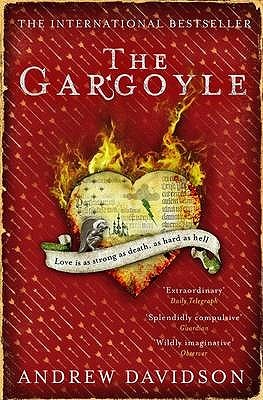 Have you read any of these? And what did you think?