So I've decided to start with another book meme. This one is called WWW Wednesdays and is hosted by
Should Be Reading
.
The aim of WWW Wednesday is to answer the following three questions…
• What are you currently reading?
• What did you recently finish reading?
• What do you think you'll read next?
Now I'm not sure how easy this will be to me as I quite often read a number of books at the same time. I almost always have one audiobook on the go while also reading a print book of some kind, whether that's a kindle ebook or a dead tree book. I don't want these posts to be never ending so I may be selective in how many I choose to list for each question. So here goes...
What are you currently reading?
Miss Peregrine's School for Peculiar Children
by Ransom Riggs. It started off really well but it started to drag so I put it to one side while I listen to the first Harry Potter book. Now I've finished that, I'm back to Miss Peregrine's. I generally only listen to my audiobooks while I'm on the bus going to work or doing household chores so I don't get through them as quickly as my print books.
MaddAddam
by Margaret Atwood. I've enjoyed the other books in the series so I am looking forward to finding out how everything comes together in this book. I just don't seem to have the motivation to read it though. I keep picking it up and putting it down.
What did you recently finish reading?
Coraline
by Neil Gaiman and
The Emperor's Soul
by Brandon Sanderson, two of my favourite authors. I read these books for a challenge and I had to write songs about them which you can read
here
.
Harry Potter and the Philosopher's Stone
by J.K. Rowling. I must be the last person to have actually read this book. It was an audiobook, narrated by Stephen Fry, and I thought it was fantastic. I'm not going to review it on here as nobody needs to read another Potter review especially one which is seven years late!
Moon Called
in that time. A great start to a new series for me. I'm looking forward to hearing more about Mercy Thompson.
Reviews to follow shortly.
What do you think you'll read next?
Decisions, decisions! Well, I am a member of a couple of book groups on Goodreads so I have some books to read for challenges and group reads already planned out. Two I need to read this month are
Inferno
by Dan Brown and
Snowblind
by Christopher Godden. I think I'm more inclined to read Inferno so that I can mark another series complete (until Dan Brown releases another book)! Neither of these choices are fantasy or science fiction so whatever I do decide to read out of those two, I won't be reviewing on here, just on Goodreads.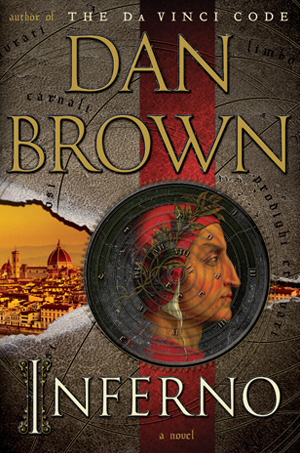 Related Posts:
Coraline First Lines
Miss Peregrine's First Lines
Name That Tune
Moon Called First Lines