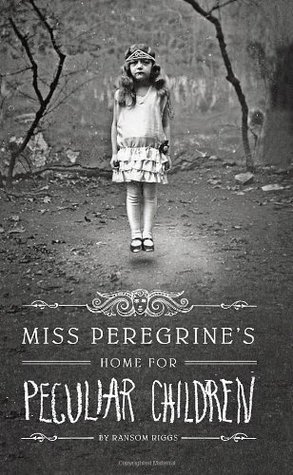 A mysterious island. An abandoned orphanage. A strange collection of very curious photographs.

It all waits to be discovered in Miss Peregrine's Home for Peculiar Children, an unforgettable novel that mixes fiction and photography in a thrilling reading experience. As our story opens, a horrific family tragedy sets sixteen-year-old Jacob journeying to a remote island off the coast of Wales, where he discovers the crumbling ruins of Miss Peregrine's Home for Peculiar Children. As Jacob explores its abandoned bedrooms and hallways, it becomes clear that the children were more than just peculiar. They may have been dangerous. They may have been quarantined on a deserted island for good reason. And somehow—impossible though it seems—they may still be alive.

A spine-tingling fantasy illustrated with haunting vintage photography, Miss Peregrine's Home for Peculiar Children will delight adults, teens, and anyone who relishes an adventure in the shadows.
Reading Format:
Audiobook
Year Read:
2014
Star Rating:
3.5 stars
I really liked the front cover of the book. It was one of the driving factors which made me read the book. That and the fact that my library's audio app had it available for free.
I listened to this on audio but when I got to the parts where it mentions the photographs and I discovered that the print version actually had those pictures in it, I decided to download the ebook to go with it so that I could refer to the pictures as and when I needed to. I am so pleased that I did as the pictures were a real highlight of this book. Unfortunately, I only had access to this through for the first part of the book as I had to return it due to their being holds on it.
I was blown away by the first two chapters of the book and I was thinking it was going to be a 5 star read for me then it just dumped me at chapter 3 and I spent the rest of the book trying to like it again. It is simplistic in language and is definitely marketed for the YA audience.
The audio was done well on the whole although the narrator's "Welsh" accent left a lot to be desired. It had American pronounced words in an accent of Cockney meets Scottish – there was not even a vague hint of Welsh in there! When I've heard bad accents before it generally makes me laugh but these were so bad it just made me cringe and almost shake my head at it.
The book did pick up again and I thought the ending was fantastic but I kind of lost my enthusiasm for it and I spent the last half of the book just waiting for it to finish. I really don't think the book lends well to the audio format. Because I enjoyed the ending, it did make me start thinking that I might read the sequel at some point.
Miss Peregrine's School for Peculiar Children:
View on Amazon
||
View on Goodreads
Related Posts:
Miss Peregrine's First Lines