Should Be Reading
.
The aim of WWW Wednesday is to answer the following three questions…
• What are you currently reading?
• What did you recently finish reading?
• What do you think you'll read next?
What are you currently reading?
Gone Girl
by Gillian Flynn. And so I did! I have read all of her other books and I really like her writing style. I like books which have interesting characters and that cover the darker side of life. I've been holding off reading this book because once I'm done, I won't have anything else by her to read and will have to join the group of many other people waiting for her next masterpiece! I'm about 70% in and I'm finding it very difficult to put down.
Lolita
by Vladimir Nabokov which I have wanted to read for quite some time. I don't have a good track record with books deemed to be classics and so I wasn't sure whether to participate or not even though I really want to read it. So, I decided to download the kindle sample so I could see what the writing style was like. Well, I read it and it hooked me in so I bought the full version. I've only read about 10% of it so far and I think I will hold off reading any more until the beginning of the month so I can join in the discussion.
Wow! Not one fantasy book on the go at the moment! That has to be a first!
What did you recently finish reading?
Storm Front
by Jim Butcher which was the first in the Dresden Files series. I thought it was a great start to the series and I can't wait to read more about Harry Dresden, the hopeless Wizard Detective. Check out
Storm Front's First Lines & Teasers
as well as
my Review
.
Miss Peregrine's School for Peculiar Children
by Ransom Riggs. If you haven't read this, I would recommend you read the print version as opposed to the audiobook version - I don't think it suits the format. Check out
Miss Peregrine's First Lines & Teasers
as well as
my Review
.
The Year's Best Dark Fantasy & Horror, 2014 Edition
which is an anthology of short stories. I hadn't heard of any of the authors except Brandon Sanderson and Neil Gaiman, two of my favourite authors. I read a couple stories in the book but short stories just aren't for me so I skipped straight to the Sanderson and Gaiman stories and then abandoned the book after that. I may come back to it at some point in the future. It was worth it for the stories I read though.
What do you think you'll read next?
Rose of Sarajevo
by Ayşe Kulin from the 29th August for a buddy read. My buddy and I both visited the Balkan region over the Summer and were struck by how little we knew of the war that occurred there back in the 90s. We wanted to know more but to learn from fiction because it's much more enjoyable. And then I say that this book was due to be released this month and we were able to get a copy through NetGalley.
I need another fantasy book to start too but not sure which one. I featured
I, Morgana
in my
Tuesday Intro & Teasers
post so I could read that one especially as I need to review it for NetGalley but it really isn't screaming "Read Me!" So, other books I'm planning to read during September include
The Daylight War
by Peter V Brett,
Shades of Grey
by Jasper Fforde,
Prince of Thorns
by Mark Lawrence.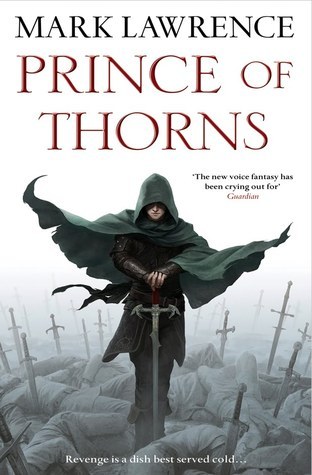 Which do you think I should tackle first?