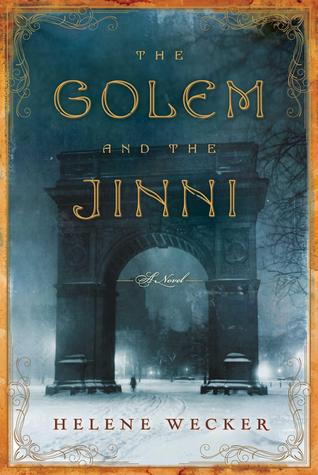 If you were bewitched by The Night Circus…
If you were mesmerised by A Discovery of Witches…
If you were enthralled by Jonathan Strange & Mr Norrell…
You will be enchanted by
THE GOLEM & THE DJINNI

Chava is a golem, a creature made of clay, brought to life by a disgraced rabbi who dabbles in dark Kabbalistic magic. When her master, the husband who commissioned her, dies at sea on the voyage from Poland, she is unmoored and adrift as the ship arrives in New York in 1899.

Ahmad is a djinni, a being of fire, born in the ancient Syrian desert. Trapped in an old copper flask by a Bedouin wizard centuries ago, he is released accidentally by a tinsmith in a Lower Manhattan shop. Though he is no longer imprisoned, Ahmad is not entirely free – an unbreakable band of iron binds him to the physical world.

The Golem & The Djinni is their magical, unforgettable story; unlikely friends whose tenuous attachment challenges their opposing natures – until the night a terrifying incident drives them back into their separate worlds. But a powerful threat will soon bring Chava and Ahmad together again, challenging their existence and forcing them to make a fateful choice.
Reading Format:
Kindle eBook
Year Read:
2014
Star Rating:
5 stars
In the synopsis, it mentions that if you liked any of the three books The Night Circus, A Discovery of Witches or Jonathan Strange & Mr Norrell, then you'd love this one too. If I had based my reading selection on this first part of the synopsis, then I might have passed it by. I loved The Night Circus, I have A Discovery of Witches on my kindle ready to read soon but I had to abandon Jonathan Strange & Mr Norrell as it bored me to death! Anyway, I am glad I didn't let this stop me reading The Golem and the Djinni. This book was fantastic!
I have no knowledge of Jewish or Syrian folklore so I found those aspects of the story very interesting.
This book tells the story of a free spirited Djinni who becomes enslaved and trapped in a flask by a wizard and an obedient slave of a Golem set free when her master dies. Both "arrive" in New York, in a world and culture they do not understand, with their true natures limited by their circumstances. They are forced to lie to keep their true nature from the general populace which in itself causes them problems. Then the Golem and Djinni cross paths, they find solace in each other as each know what the other is feeling, although that doesn't mean they see everything eye to eye as after all, they have opposing natures. Then things turn disastrous and they find their lives are on the line.
I really enjoyed the writing in this book. It felt very exotic! And I really liked the characters, I had a really good sense of what they looked like and what they were like as people. I particularly liked the Djinni and the Golem but also the extended cast of characters were very likable too (except the baddie and I despised him as much as I loved the others which is I suppose what you want from a villain).
I thoroughly enjoyed this debut novel by Helene Wecker and I will be waiting with anticipation for her next release.
The Golem and the Djinni:
View on Amazon
||
View on Goodreads